Welcome to this years Royal Welsh Online Business Show
Every day we will be adding new insightful panel discussions, audio interviews and the latest
news stories covering a wide range of topics relevant to rural Wales.
Day 9 – Thursday 28th July 2022
Policy Development - Creating Economic Sustainability within Our Family Farms in Wales
In this panel discussion, host Carwyn Jones is joined by NFU Cymru President Aled Jones and Gareth Parry, Senior Policy and Communications Officer at the FUW to discuss the recent Sustainable Farming Scheme proposals.
Actions to support sustainable production of food, improve biodiversity, and strengthen the rural economy are part of a set of new proposals from Welsh Government. Whilst financial support will be provided for the work farmers do to meet the challenges of the climate and nature emergencies, how do we ensure the balance between environmental protection and economic prosperity are implemented.
The Importance of Succession Within Rural Wales
Host Carwyn Jones is joined by Karen Anthony, Associate Solicitor at Agri-advisor, Abi Reader, Deputy President, NFU and Charles de Winton, Rural Surveyor at the CLA to discuss how succession planning is an essential part of running a family farm business and why the biggest long-term threat to any family farm, is the lack of a robust succession plan.
With an average age of UK farmers now at 59 years, succession is critical to a farm's longevity. It has also shown that the concept of retirement can have a very different meaning for farmers than for those in other occupations.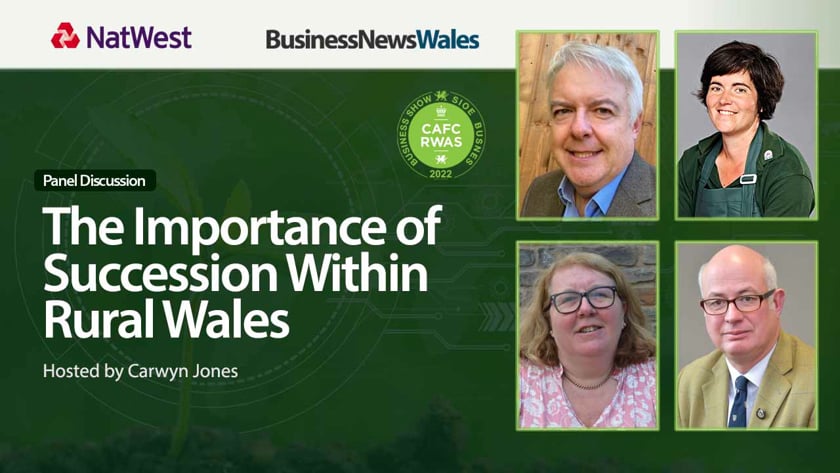 The Opportunities & Threats Facing The Red Meat Industry in Wales
Dr Owen Roberts, Communications manager at Hybu Cig Cymru spoke with Business News Wales as part of this year's Royal Welsh Virtual Business Show, about the The Opportunities & Threats Facing The Red Meat Industry in Wales.
Day 10 - Friday 29th July